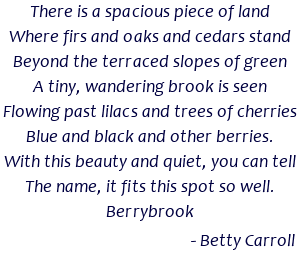 Berrybrook was founded in 1954 by Mrs. Katharine Mann "to provide a place to develop self esteem and confidence, to help a child not to be afraid to fail - to learn by trying." She wanted children to have the opportunity to explore and create; to learn from hands-on experience; to learn to handle feelings and to accept them; to search out beauty in the world around them; to delight in exercising their bodies; and to find out what they can do.
Berrybrook is located on what was once "Molkiah Farm" on Winter Street in Duxbury, in a charming cape that dates back to 1750. Mrs. Mann and her colleague, Miss Helen Wheeler, greeted four pupils and soon thereafter, enrollment continued to grow.
In 1966, the school was incorporated and a Berrybrook Board of Directors was established, "To ensure continuance of present policy of the school, which is to put the interests of the children first, to maintain the atmosphere of freedom of expression within reasonable limits in a home like atmosphere, to offer the children a wide variety of experiences by means of a competent and understanding staff which will help prepare the child for the rest of his life; to always keep the emotional welfare of the child as the main objective."
In 2008, a new school house was built adjacent to the farm house to meet the needs of current and future Berrybrook families. The building consists of three classrooms, administration, and a multi-purpose space.